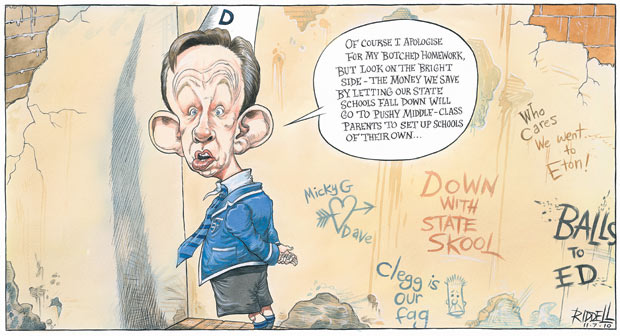 Firstly, apologies for the lack of blogging recently. Been away in north Wales for the past week surrounded by a seal, dolphins (yes you heard me actual dolphins in north Wales!) and what seemed to be the world's largest gathering of jellyfish, but that unfortunately is a different story.
Moving on swiftly, Education Secretary Michael Gove promised one of the greatest revolutionary reforms to the education system of all time. This was hoped to be achieved through the expansion of the academy programme which was started by Tony Blair's Labour government. The Academy school programme was initially targeted at underperforming areas, now I don't know if they were successful or not, but it seemed a good….ish idea at the time.
But now Gove has began rushing through legislation to allow any school the right to become an academy, independent from the local council (even though they already hold a large degree of autonomy). Gove claimed that around a 1100 schools had already signed up to become academies within a week, however, it was recently revealed a mere 153 have done so since the coalition took office. 153! Ed Balls has accused Gove of railroading the bill given only a mere 10% of the claimed schools have applied. Personally, I'm really not well aware of the pros and cons of the academy programme, but for a coalition that is supposed to represent "new" politics, it certainly shows a lot of the "old" brand by preventing Parliament from doing their job of proper scrutiny of bills.
Moving on again, it has been revealed that there is an apparent schism between the MoD and the Treasury over who should foot the bill for the renewal of Trident. The renewal of Trident is predicted to cost around £20 billion, the MoD budget is £40 billion and there is a large budget deficit, already you can see a slight problem. Personally, I'd love to see the back of Trident, but in the name of compromise here's an idea that will kill two birds with one stone. How about keeping Trident but not renewing until the deficit is well and truly dealt with? Britain's nuclear defence system is still very capable of wiping out numerous major cities across the globe, a slight upgrade that would increase the range of the submarines and the blast radius of the missiles a bit would surely not go to miss if its lifespan is prolonged. Just a thought.
Max