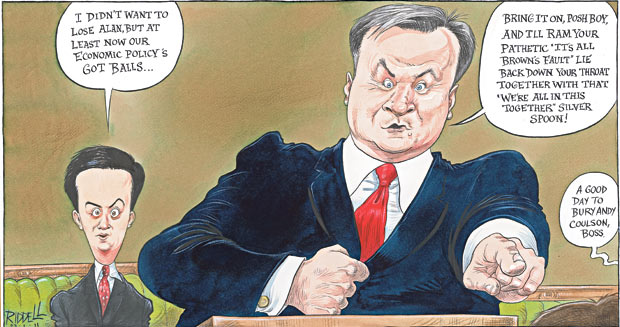 Now, I'm not going to focus on Alan Johnson, Suzy has already dealt with that, but I just like to say he'll be surely missed from the front-line politics.
Anyway, we move onto Johnson's successor, Ed Balls. Now to many Tories, they will regard this as a late Christmas present. The well oiled Tory party machine has already been making well-directed attacks towards Gordon Brown's former chief economic's adviser and playing at his past which was so intertwined with the Blair-Brown feud. Yes, Balls was a major figure during the feuds, but as a wise Baboon once said "Oh yes, de past can hurt. But the way I see it you can either run from it, or learn from it." (the wise Baboon being Rafiki from the Lion King……..BULS draws wisdom from many walks of life). Yes, Balls' part in the feud was far from his finest hour and many of the economic policies did contribute to the financial crisis (will come back to the latter part later). But, this is a time for Balls in particular to shape his own image and reputation. As Shadow Chancellor, with his deep knowledge of economics, he will be able to establish at least a broad thinking idea of Labour's alternative and most likely rip Gideon to shreds in the process (I particularly like the idea of the latter).
With growth beginning to slow, inflation and unemployment rising, there has been no better time to be an "attack dog". But the Tory-led Coalition is quick point out the failures of economic policy Labour made. We did make great progress under 'New' Labour, but we also made grave mistakes. But, to counter the Tory-party machine, we do need strong responses in order as well as humility about our record. When Cameron (or indeed anyone) criticises Labour failing to regulate the banks, quote back Gideon and Cameron's years of calling for further de-regulation. And when Cameron claims Labour's spending caused the deficit, don't forget to remind them that Conservative spending policies before the 2008 crash would have rigidly stuck to Labour's. The Tory-lead Coalition's deceit cannot last forever and hopefully, Ed Balls can dispel the rhetoric as soon as.
Max