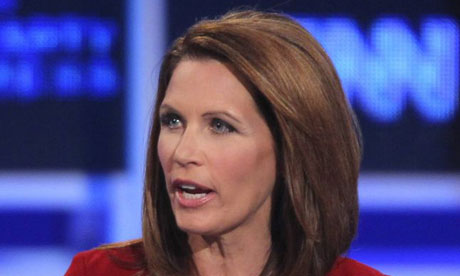 You'd think after eight years of George W. Bush as President you would have thought the Republican party would ensure its front-runners for the 2012 Presidential bid would at the very least appear to seem to know what they are talking about. But sadly, they got Michelle Bachmann instead. Now I thought the American right (specifically the Tea Party wing) had lost most of its credibility (primarily) in regards to modern science when one of its darlings, Sarah Palin, said this:
Now, yes you may well be reeling laughter/pity for the Palin. But this has turned out to be nothing when compared to the Tea Party's newer rising darling, Michelle Bachmann. This is the woman who wishes to close down the Environmental Protection Agency (EPA), regards homosexuality as a "disorder" and a "sexual difunction" and wishes to repeal all health care system legislation.
What she done now? You may ask. Well she, like Palin has delved into the realm of scientific ignorance. Bachmann claimed that the HPV vaccine, which is a well-proven preventer of cervical cancer, causes "mental retardation" in children. Yup, you heard right, "mental retardation" in children.
Now I'm not even going to go in to the long long list of scientists and scientific institutions that lined up to show how ridiculous Bachmann's comments are. But I will provide her with two specific facts:
HPV, Human Papilloma Virus, or more commonly: genital warts is the most common STD worldwide and is the 2nd largest cause of female cancer (CDC).
Investigations by the AMA, CDC, WHO, and other major health organizations have cleared the vaccine as safe. Of 23 million administered dosages, 772 (that's .003%) reported serious effects.
Please Tea Party, grow up!
Max